Location
Kitsilano is located in Vancouver's West side. It boarders English Bay at the North, West 16th Ave at the South. Burrard Street at the East & Alma Street and a portion of Dunbar Street on the West.
1800 to 3000 block E/W
1000 to 3100 block N/S
Notable landmarks in Kitsilano include the Burrard Bridge, Kitsilano Beach, and the Museum of Vancouver/H. R. MacMillan Space Centre.
Parks
Kitsilano has Twelve parks including Tatlo Park, Volunteer Park, Margaret Pigott Park, Jean Beaty Park, McBride Park, Almond Park, Connaught Park, Arbutus Greenway Park, Rosemary Brown Park, Delamont Park, Hadden Park & Vanier Park. It's also home to Kits Beach.
Residential Market Stats
The following graph represents all residential properties including detached homes, townhouses, duplexes & apartment/condos. For a chart specific to your type of home, reach out to us here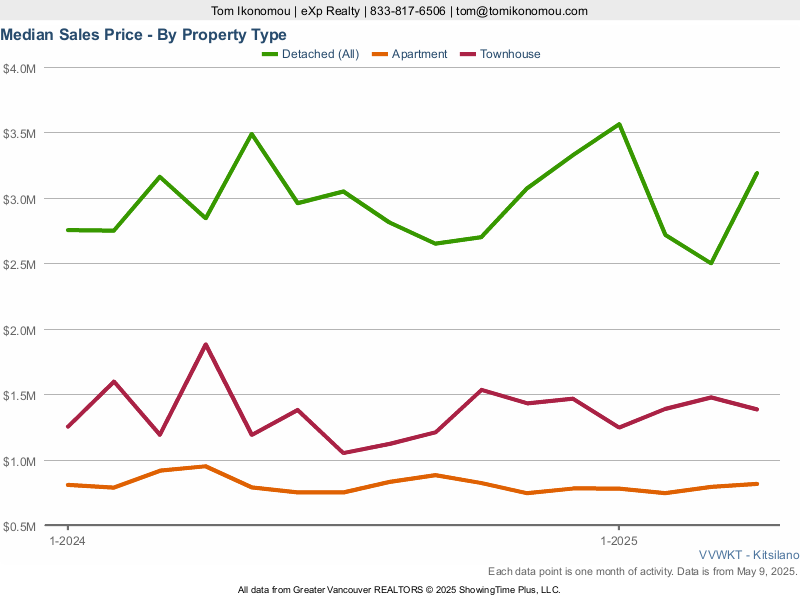 Click HERE to go direct to your Neighbourhood. Get access to resources, property info, news & updates via electronic messaging. You may withdraw consent anytime. We take your privacy seriously. For market stats specific to your home and area call
Tom Ikonomou direct at 778.879.8366 or reach out to us HERE
For all detached homes for sale in this area click HERE